Here's the latest from our construction sites!
Brentwood Road Updates
 Dec 10-11, 2019 -  Joel Stern from Boston Kitchen Designs donated his time on Dec. 10th and 11th to install the cabinets at Brentwood Road in Kingston. With his generous assistance, we are one step closer to completing the finish work on this home.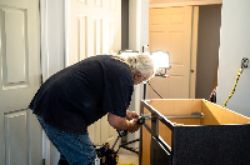 Dec 7, 2019 - Moving right along!
Interior painting                80% complete

Interior doors and trim DONE.  THANKS to Dave & Taylor Berry and a volunteer crew from GHV Carpenters Inc

Oak stairway                    Done

Interior oak flooring        50% complete

Septic system                   90% complete
Nov 26, 2019 - Significant strides have been made  toward completing the home in Kingston!  Interior painting is now finished thanks to the Nov. 26th Painting Party. We are getting closer to turning over the keys to Hakeem and his family!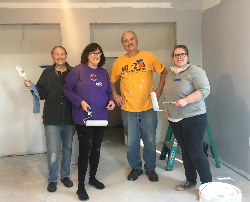 Nov 16 - 22, 2019 - 100% vented soffit completed on the porch; 100% skim coating interior walls; 75% back-filled the septic system; 100% primed interior walls and ceilings.  Paint Party Tuesday, the 26th!
Sept 25, 2019 -  Employees of Fairfield Inn & Suites by Marriott in Plymouth recently participated in a Team Build at Habitat for Humanity of Greater Plymouth's Kingston site, where a home is currently under construction.  The goal is to complete the Kingston home by the end of the year, thanks in part to the help of many community volunteers over the last several months.Save & Close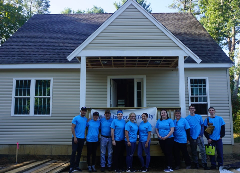 Fairfield Team
Sept 7, 2019 - Rough plumbing inspection passed, framing inspection scheduled for 9/9/19,  rough wiring to about 90% complete.  Completed construction on the porches, poured footings for the porch stairs. Await rough electrical inspection,  after which insulation will be installed and inspected.  Then we will be ready to hang the drywall.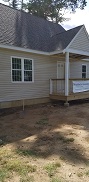 Long Pond Updates
Dec 18, 2019 - Thanks to our friends at Buzzards Bay Area Habitat for Humanity for referring a hardworking group from Travelers Insurance (W. Bridgewater office) who helped at our Long Pond Rd. sites where they made great progress on the important task of installing windows.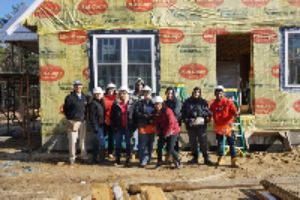 Dec 7, 2019 - Neither holiday weekends or bitter cold deters our volunteers from getting the job done!
     863:  Front Porch Roof Done; Roof trim Done; Vinyl siding 25%
     865:  Front Porch Roof 50%; Roof Trim 70%; Vinyl siding 20%
 
Nov 16, 2019 - A group from Church of the Pilgrimage joined in the fun and helped to bring the homes to this status:
     863:  75% roof trimmed; 90% interior partitions;20% vinyl siding installed
     865:  75% roof trimmed; bulkhead installed; 90% interior partitions; Started vinyl siding
     867:  60% of interior partitions completed.
Oct 19, 2019 - A large group from Redbrook signed up and provided lunch for a great, progress-filled day at the site, and plan to return to help in 2020!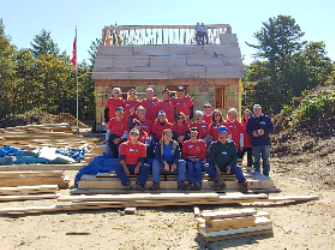 Redbrook Crew
Oct. 4, 2019 - Habitat for Humanity of Greater Plymouth welcomed Gordian employees earlier this fall for a Team Build at the organization's Long Pond Road site in Plymouth (where three homes are currently under construction).  Gordian, based in Rockland, specializes in data, software, and expertise for every phase of the building lifecycle, and also presented the HFHGP with a $1,000 donation.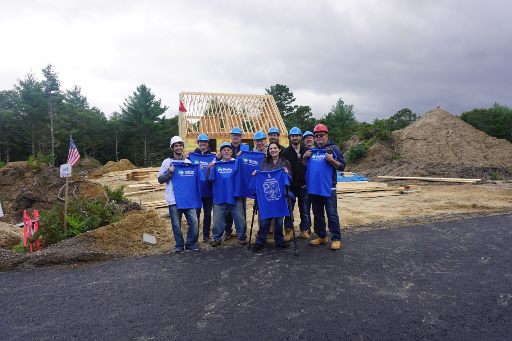 Thank you, Team Gordian!
---
---
More volunteers are welcome and encouraged to jump in on the building of both the Brentwood and Long Pond builds!
If interested, please visit our volunteer page here!