Long Pond Updates - FINISH LINE CROSSED!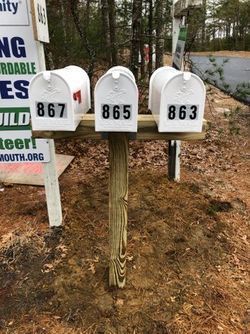 March 1, 2021 - 
As Taylor & Allison and children settle into their beautiful new home, on Saturday, February 27th, Jennifer's and Tracy's families joined invited guests at the wet, attendance-restricted dedication of their future homes!
January 5, 2021
We have our first official homeowners on Long Pond Road!  Allison and Taylor closed on their new home and are in the process of moving in!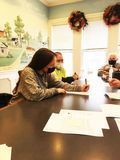 November 14, 2020 - We Are Still At It!
Three houses are all in the home stretch:
863, 865, 867 Long Pond Road, Plymouth
#863 has passed all inspections and awaits Certificate of Occupancy and closing soon!
In #865 and #867 walls and porches are up; hardwood floors are laid; ceramic tile bathrooms are done; kitchens are installed.
90% of all interior trim is installed; #865 is 70% painted; #867 is 50% painted; #867 is ready for granite counter tops; #865 & #867 need finish electric and finish plumbing.
Driveways will be paved on Monday, Nov. 16th.
October 4, 2020
---
---
Summary as of August 23rd:
863:  Interior is shaping up nicely - kitchen cabinets and interior doors are installed and await paint.  Some exterior tasks remain.  Hopes are high that we'll have a (likely virtual) dedication by Thanksgiving!

865:  Drywall is hung and primed, awaiting finish painting; One bedroom has flooring with a second in progress. 

867:   Walls and ceilings are in and await paint and floor installation expected to begin soon.
---
Meet the groups who've come to help us build at Long Pond Road
---
More volunteers are welcome and encouraged to jump in on the building at the Long Pond Road build site!
If interested, please visit our volunteer page here!
---
---
March 4, 2020 - The Moore family was given the key to their new home!  Congratulations to them and to all who helped make their dream come true!