Here's the latest from our construction sites!
Brentwood Road Updates
September 28, 2019 - Thanks to the volunteer crew from F airfield Inn & Suites in Plymouth on the 25th, and our regular Saturday volunteers, the walls are about 50% sheet rocked.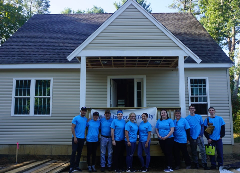 Fairfield Team
September 7.2019 - Rough plumbing inspection passed, framing inspection scheduled for 9/9/19,  rough wiring to about 90% complete.  Completed construction on the porches, poured footings for the porch stairs. Await rough electrical inspection,  after which insulation will be installed and inspected.  Then we will be ready to hang the drywall.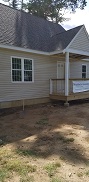 Long Pond Updates
September 28, 2019 - All three homes are taking shape!  
           863 - Framing 50% complete  /   865 - Framing 75% omplete   /  867 - Framing 50% complete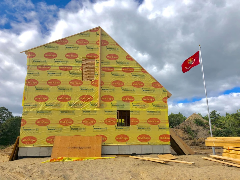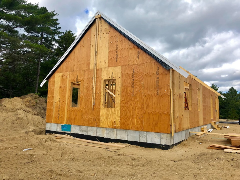 September 7,  2019 - At 863 Long Pond Road we finished framing the first floor walls and installed the second floor deck.  Next week we start framing the second floor walls and roof.
August 31, 2019 - Literally scores of professionals from the construction field, thanks to Matt Glynn of Glynn Electric and Ward Jaros!, as well as all regular Brentwood Rd. volunteers came together at the Long Pond Road site  to help frame Veteran Jennifer's future home.  We are so grateful for all who showed up to help this project along!
---
More volunteers are welcome and encouraged to jump in on the building of both the Brentwood and Long Pond builds!
If interested, please visit our volunteer site here!