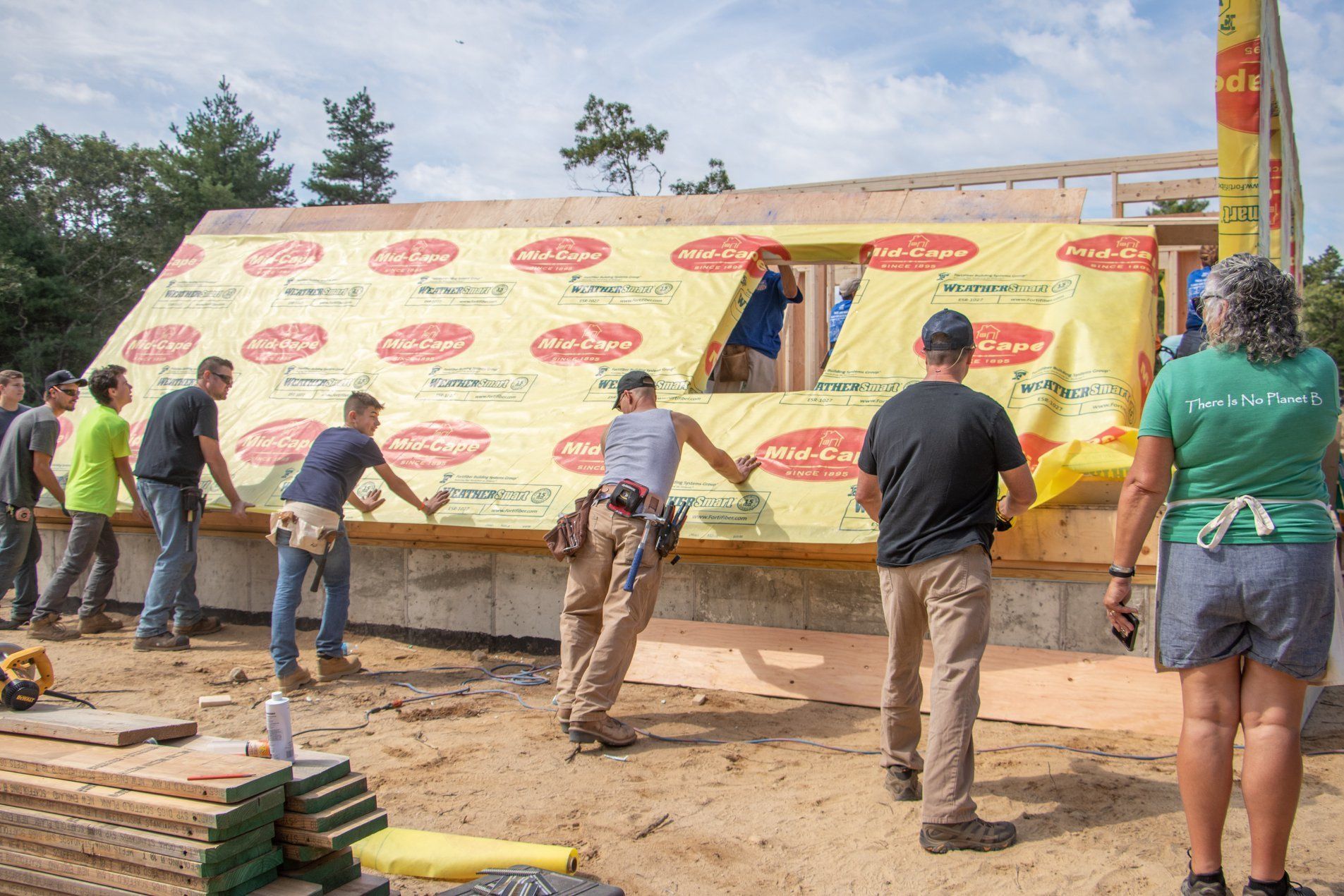 Habitat for Humanity of Greater Plymouth
Habitat for Humanity of Greater Plymouth was founded in 1995 by a group of dedicated volunteers who shared a vision to provide affordable homeownership opportunities to help local hard-working, low-income families find a path to strength, stability and self-reliance. HFHGP is dedicated to eliminating substandard housing through constructing, rehabilitating, and preserving homes. 
HFHGP is one of 1,400 local affiliates across the nation of Habitat for Humanity International. To date, we have built homes for 14 families (including 58 children) earning between 30-60% of the area median income. Each has demonstrated a willingness to partner with HFHGP by investing sweat equity into the construction of our homes, participating in required homeowner education classes, and signing a mortgage. In addition, dozens of "Brush With Kindness" projects are completed each year, providing minor home repairs on existing low-income homes to protect residents' health and safety.  
Our Service Area
HFHGP serves the towns of Plymouth, Carver, Kingston, Middleboro, Lakeville and Plympton, all located in southeastern Massachusetts.
The Habitat Model
Habitat believes in providing families a 'hand up' and not a 'hand out'.
Habitat for Humanity is known throughout the world for its unique "partnership housing" model that founder Millard Fuller envisioned, where volunteers work alongside the families who will own the completed homes to make a lasting change in their communities. Habitat homeowners build in partnership by providing sweat equity hours (250 hours for a single adult family), and attend extensive homeownership classes (finance, budgeting, etc)
In addition to building new houses, we have also adapted the model to rehab and renovate struggling homes and foreclosures in our Cranberry County region. 
HFHGP serves as the general contractor on all its new construction and rehab projects. We are able to do what no other government or corporate entity can do–leverage every dollar donated with the planned use of volunteer labor and donated materials. 
By working together–volunteers, corporations, faith communities, civic groups, individual supporters, and homeowner families–we nurture strong families, healthy neighborhoods, and a vibrant community. 
About Habitat for Humanity International
Founded in Americus, Georgia, USA, in 1976, Habitat for Humanity today operates around the globe, with more than 1,400 U.S. affiliates across all 50 states and in approximately 70 countries around the world. Together, we have helped 6.8 million people (and growing) improve their living conditions.
Habitat for Humanity was founded on the conviction that every man, woman and child should have a simple, affordable place to live in dignity and safety, and that decent shelter in decent communities should be a matter of conscience and action for all.
---
Many thanks to our lead partners!