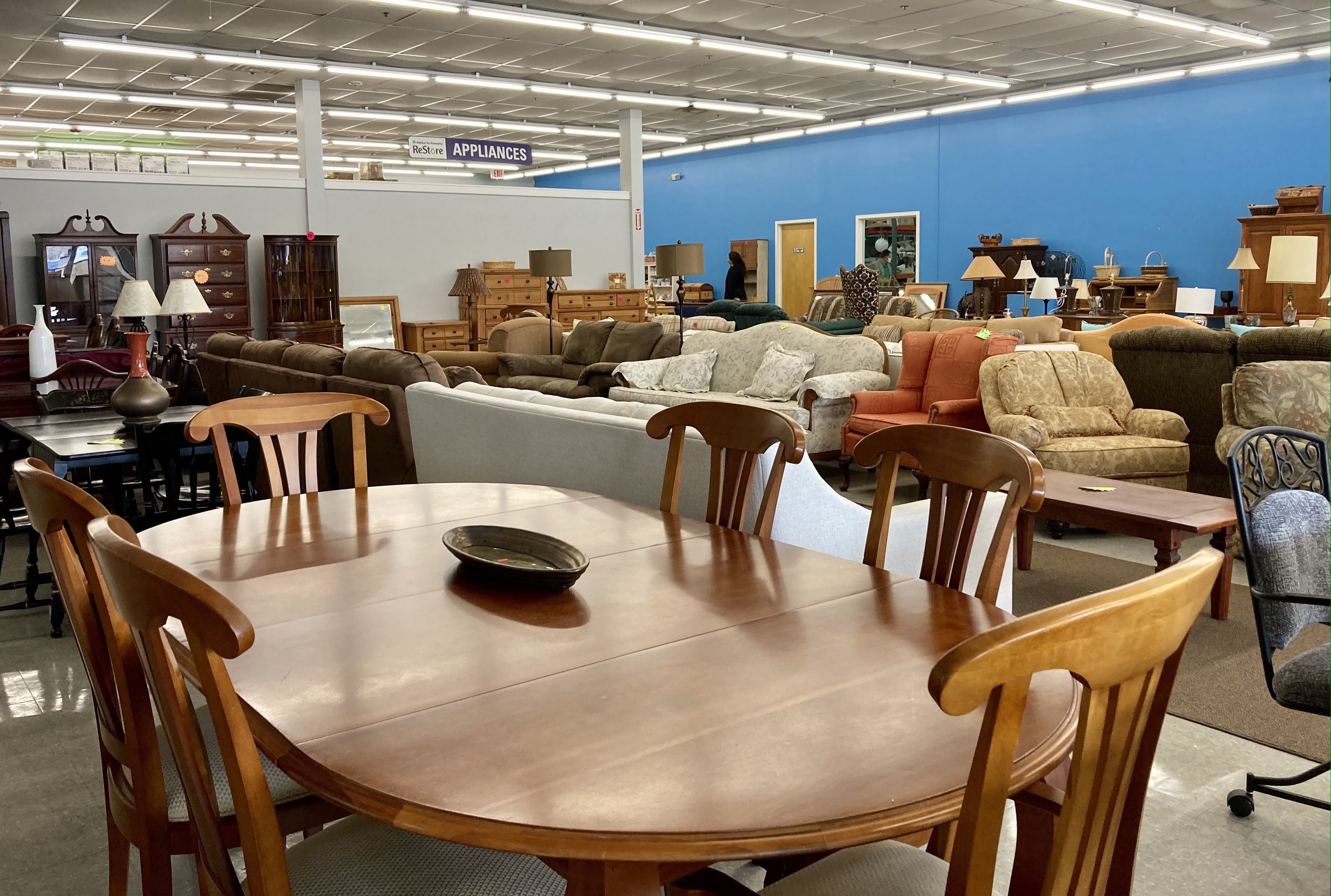 A Second Life for Household Items
Your Habitat ReStore is dedicated to being the donation center of choice for many new and gently used products deserving a second useful life rather than contributing to the local landfill.
The Habitat ReStore in Carver provides direct support for Habitat for Humanity of Greater Plymouth, with all proceeds benefiting HFHGP in our work to reduce substandard housing locally. Sales of your donated items help us partner with local families to build, rehabilitate and repair homes right here in our region. 
If your household items have good life left in them, your satisfaction rewards from donating them will triple!
Help local families by supporting affordable home construction
Help the environment by keeping perfectly good items from ending up in the landfill
All donations are tax-deductible
And, we offer free pick-ups!  See below for more details
Acceptable Donation Items
We gratefully accept good quality, clean, re-saleable household items including: 
Furniture
Appliances
Cabinets
Lighting (except brass)
Doors & Windows
Flooring & Rugs
Vanities
Hardware
Homes Goods
Building Supplies
We can not accept furniture with rips, stains, tears, sun fading, smoking/pet odors or pet damage; see below for more criteria.  Please call the ReStore at 508-866-4199 with any questions about your items. 
Items We Do Not Accept
Anything that doesn't work or is dirty, stained, chipped, or broken
Floral pattern furniture
Sleep sofas
Pianos/organs
Computer, fax and copy equipment
Used/broken tiles
Bedding, linens, drapes and clothing
Mattresses and box springs
Baby items, toys, playground equipment
Used blinds or window treatments 
Opened paint, stain, thinners or hazardous material of any kind
Used shower doors, hot tubs, standard tubs, or toilets
Unframed mirrors or glass
Appliances over 12 years  old
Used hot water heaters, wall ovens, and faucets
Non flat screen TV's
Any type of flooring made in China (due to formaldehyde)
Entertainment Centers
Storm doors or windows
Personal safety equipment (life vests, helmets, etc.)
Treadmills or large electric exercise equipment
Pool tables
Large 2 pc. china hutches
Dishware
Hospital beds
Brass lighting
Used ceiling fans
Office furniture
We Offer Free Pick-Ups!
We pick up all of the items on our accepted items list. However, we reserve the truck for pickups that meet the following requirements:
You have a large quantity of items; or
The items are large and require a truck to move; and
You are able to have your donation located in a garage or on the first floor on day of pick up 
Due to the cost of transportation, the staff required, and our goal of being diligent in how we use our resources to raise funds to support Habitat's building projects, we must limit our donation pickups to items that meet these criteria.
Please email photos of the items you would like to donate - this will help expedite the process. You can send photos to restoredonations@verizon.net, please include in your email your name, address and contact phone number.
Our ReStore Manager or on-site Donation Ambassador reserves the right to decline any donation that might be unsuitable for the ReStore or may pose a safety risk to our donation pick up team. Important: Please call us prior to dropping your donation at the ReStore to ensure that we can accept your offer. An e-mail to restoredonations@verizon.net with your name, address and phone number, description of the items, and photos will expedite our response. All donations to be picked up must be easily accessible to the Donation Ambassador(s). We reserve the right to accept the offered donation in whole or in part and we may selectively accept an assorted offer, leaving that which is not considered usable in the offered condition or does not fit the store's sales criteria.  
To submit donation details, please complete and submit a ReStore Contact Form, or email pictures and your contact info to restoredonations@verizon.net. For questions, please call 508-866-4199. 
---
Many thanks to our lead partners!