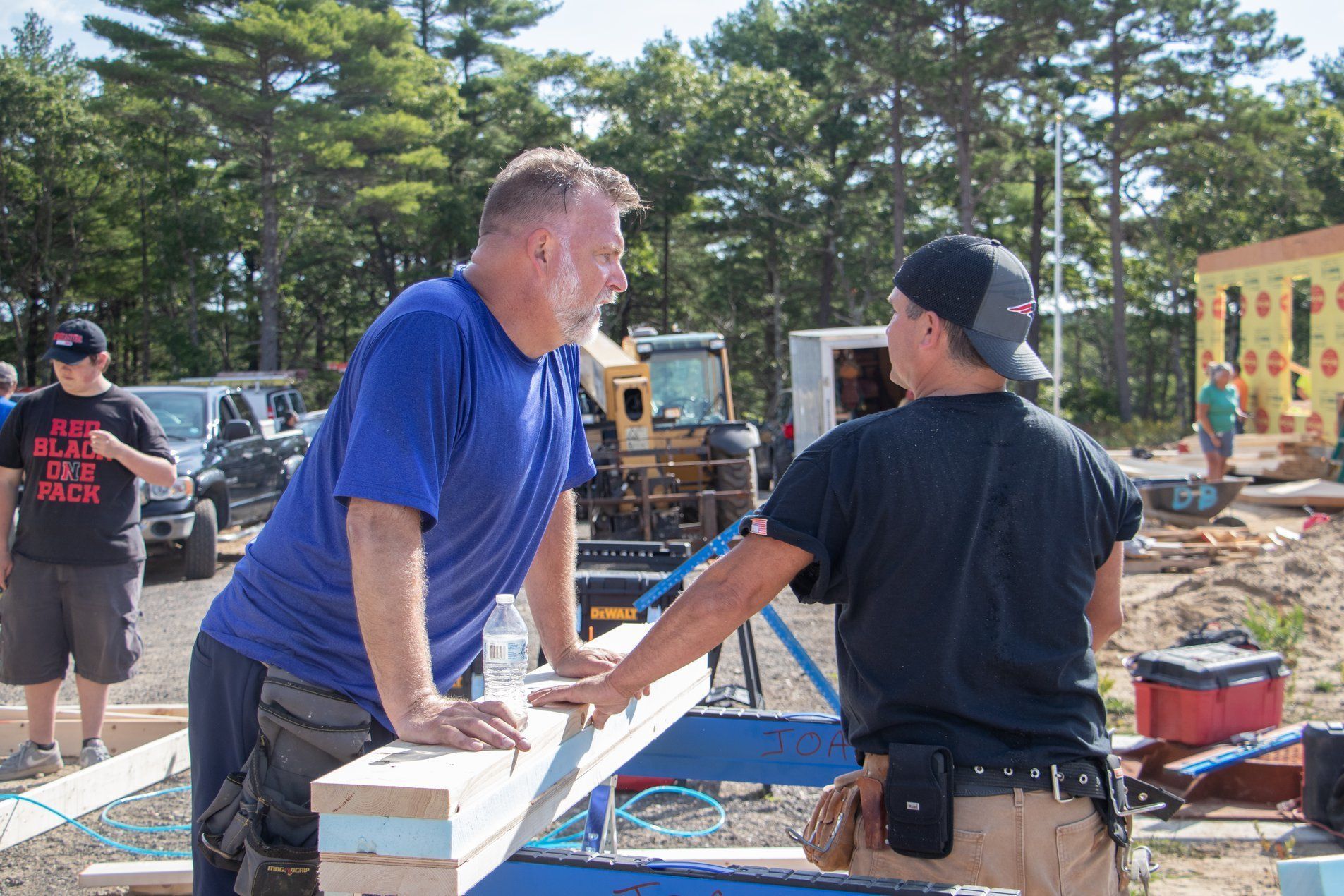 Volunteer Spotlights
Hundreds of volunteers lend their time and talents each year to make the engine of Habitat for Humanity of Greater Plymouth run.  They learn new skills and build at our construction sites, they keep our ReStore in great shape and generate sales to support the mission, and they work behind the scenes in our office and on committees to ensure all details are covered.  No matter what form their volunteerism takes, we are deeply grateful for each and every person who has helped along the way. 
On this page, we will occasionally spotlight volunteers who have become part of our family over the years. They are true friends of HFHGP and we hope you'll enjoy getting to know them here. 
Den Forbes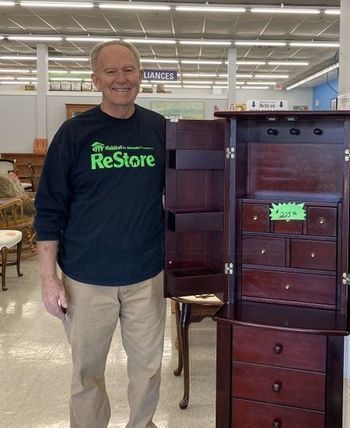 Navy Veteran, Real Estate Broker & One of Our Most Versatile Volunteers
Known to many because of all the teams he's worked with, Den can easily be described as a jack of all trades, and has spent hundreds of hours volunteering his time with Habitat for Humanity of Greater Plymouth over the past seven-plus years. 
Den's first experience with Habitat for Humanity started in the fall of 2014.  Executive Director Jim Middleton asked Den to have breakfast with him and the outgoing Board of Directors President Steve Dubuque. As a longtime friend of Steve's, Den was wondering "why me?...Why would they want me on the HFHGP Board of Directors?" During the meeting, Den was reminded of his relevant experience and passion for housing programs on the South Shore. Den and Steve had worked together previously through Steve's role as director of the South Shore Development Corporation and in Den's role as executive director of the Cranberry Area Hospice. During this meeting, Jim and Steve asked Den to join the Board, for they felt that his experience in the real estate industry as well as his experience with multiple nonprofits (including Plymouth Area Coalition for the Homeless and the South Shore Realtor Association) gave him an unknowing head start to HFHGP.
Through Den's time with HFHGP he's been involved with almost all areas of the organization. Most recently Den can be found at our ReStore weekly, working on the sales floor, helping customers, making minor repairs to furnishings and lighting fixtures that come in, and assembling pieces as needed. During his time on our Board, we served as volunteer member and as vice president.  He has also served on the Executive Committee, Fundraising Committee (including as Chair), Site Selection Committee, and Construction Committee, and has spent time as a construction crew member, where he was involved in four homes, including contributing a great amount of time to the home on Brentwood Road in Kingston. Den has also been part of our Brush with Kindness initiative as a crew member.
Den explained that when he works with his hands, he enjoys it the most and gets a great deal of satisfaction which is why he would say he really enjoys volunteering on builds and in the ReStore. When talking about his volunteer experience, Den explained, "Each and every volunteered day presents new challenges from which to learn new skills and achieve successful outcomes. Working at the ReStore has opened my eyes as to how many people in our service area (and beyond) we can help make their lives happier and healthier, day by day, week in and week out." He added how rewarding he finds the work in part because he is able to aid hundreds of families every month. 
When asked what Den's volunteering memory he treasures most, he mentions they "occur upon my hearing the stories from the Habitat families who we have helped in both the past and more recently, as well those heartwarming stories that are witnessed while the construction crew sits down for a delicious meal donated by our Lunch Committee Volunteers."
Pat Mustacaros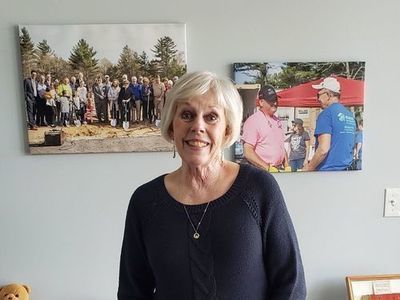 Finding New Purpose after Her Profession
Retiring after teaching elementary school for over 35 years, most people would assume to take a much-needed break and relax as much as possible with their newfound freedom. This was not the case for Pat Mustacaros. She wanted to spend her time helping people and took advice from her friend and one of the founding members of Habitat for Humanity of Greater Plymouth, Lenore Swanson, and filled out a volunteer application. She was genuinely interested in the progress of Habitat for Humanity and the dedication and determination the families had to receive a home through Habitat.
Twenty years later, Pat has been one of a handful of office volunteers for the organization and has assisted many new hires through the years, learning the organization's ropes. When speaking with Donna Martin, the Affiliate Administrator of Habitat for Humanity of Greater Plymouth, Donna expressed that Pat's most significant impact on the organization "is her willingness and desire to do whatever we put on her plate, regardless of how mundane or repetitive the task.  She is 100% reliable and refuses to leave until she knows I have nothing more for her on a given day, and if her schedule requires her to leave before done, she will bring the work home with her and complete it there."
While asking Pat about her time so far with Habitat, she told me about an old building the office used to be in; this building also included a dog boarding/grooming business and a music studio. Pat mentioned how even though you'd usually hear dogs howling along with the drums, it kept smiles on everyone's faces. 
She has said no matter where they might be (home now during COVID), or at the office, everyone works so well together it feels like one big family! Pat's motivation comes from other Habitat volunteers and the homeowners; their dedication and positive attitudes make volunteering even more enjoyable!
Pat has been such a critical piece to Habitat for Humanity of Greater Plymouth, and we look forward to more years of her volunteering with us!
Karen Kelley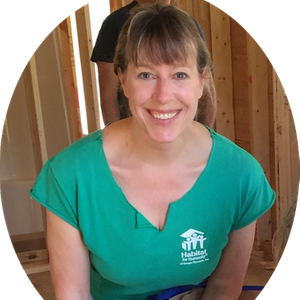 Karen Kelley is a longtime volunteer for Habitat for Humanity of Greater Plymouth. As Material Donations Coordinator, she has negotiated vendor discounts and donations of building materials and supplies, and facilitated the acquisition of products and materials from national suppliers and corporate sponsors. 
Why did you first get involved with Habitat for Humanity of Greater Plymouth nearly 20 years ago?
There were a few reasons I started. One, I was new to the area and wanted to get to know people in my community; people who volunteer their time and effort have a strong moral compass. Second, I was a single homeowner and was interested in learning how to tackle home projects as well as tap into trusted contractors. Once I learned those skills, I wanted to share them with others. I enjoy teaching volunteers—including Habitat homeowners who volunteer on build day. A home does not come without work; it is continuous. Knowing how to fix things yourself can be a huge cost savings. 
How did you come to serve as Materials Donation Coordinator?
After I did my first home build, my quest for knowledge landed me on the Construction Committee; I wanted to develop an understanding of the home-building process. Most committee members had experience in the construction industry, and I felt like I had nothing to offer. But I did know how to shop! So, I offered to source material donations and the new position was born. In addition to working with Habitat International to coordinate materials, I do outreach to local and national companies for donations. I leverage the knowledge I gained about the build process to talk to salespeople.
What is the most challenging aspect of the role?
Getting past "No." There are a lot of rejections when you're asking for free donations, but the process has helped me get better at negotiating. Another challenge is recruiting people. A lot of people like to help, but don't volunteer until you ask. 
What do you most enjoy?
Scoring a win that I had to earn, as well as working with volunteers and teaching them new skills.
You have volunteered at about 10 home builds. What keeps you coming back?
Hands-down, the camaraderie. I look forward to going to the build site on Saturdays. For me it is such a social environment. Habitat has allowed me to build skill sets that I would never have had the opportunity to gain; not just the building skills but how to be a team player and a team leader, how to negotiate—there are so many things I have been able to learn by taking a chance.
What are three words you would use to describe Habitat for Humanity?
Welcoming, diverse, and collaboration. There are so many volunteers from different backgrounds and skill sets working toward a common goal. You can come in knowing nothing and come out with a whole lot of self-confidence and skills—and some good friends. 
---
Many thanks to our lead partners!