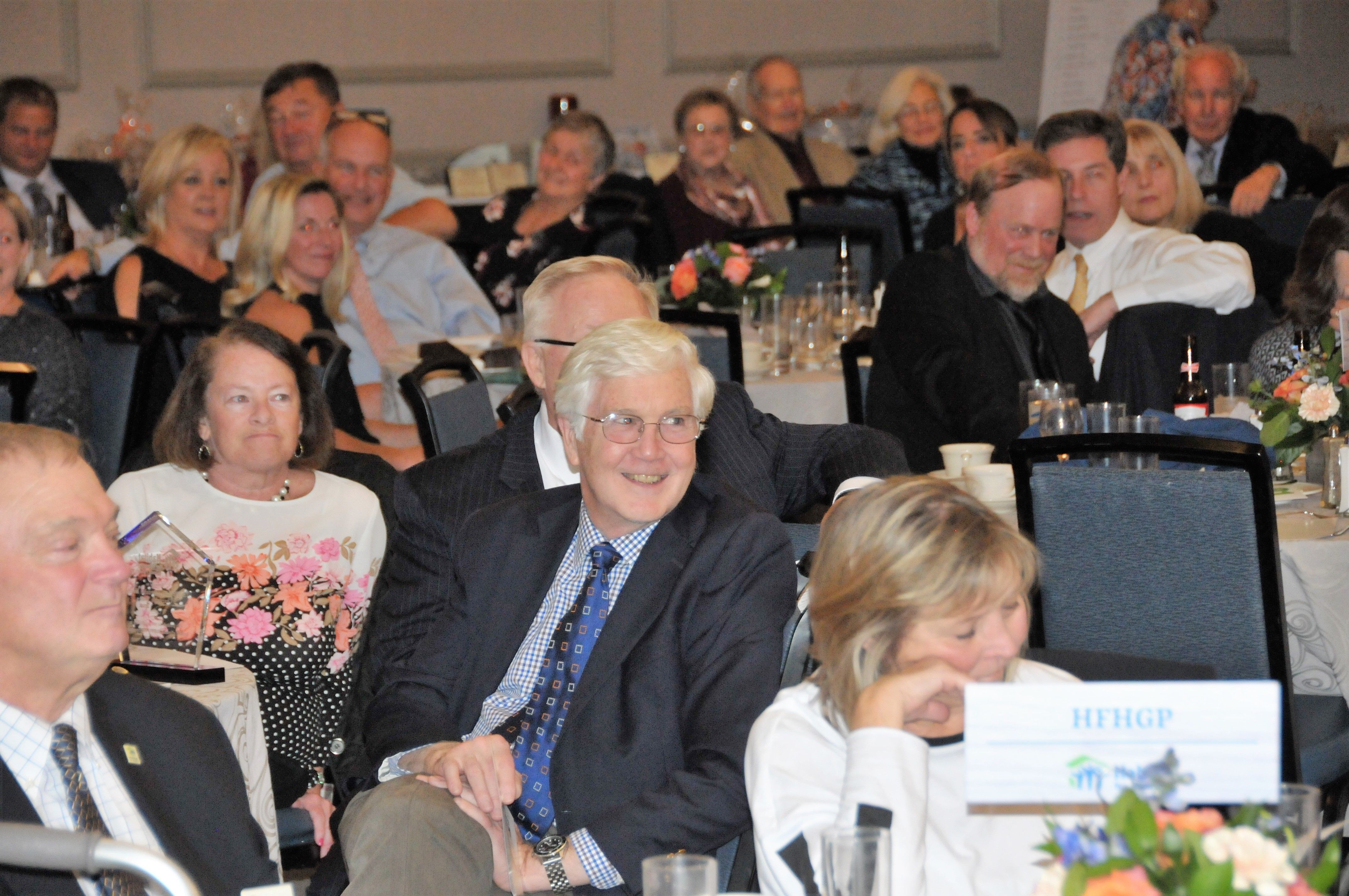 Events
2023 Hearts and Hammers Gala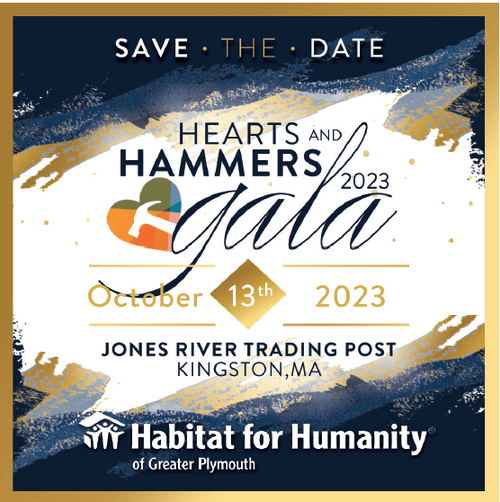 Ticket sales are open!  Tickets are limited and are sold on a first come, first served basis. Tickets are $100 each through 9/1 and will increase to $125 each after 9/1.
The Gala Celebration features Vessel Service Dinner, Dancing, Live Music, Silent & Live Auctions, an Interactive Photo Booth and lots of fun for all of our Habitat supporters! Parking is available. Cocktail attire is suggested. Tickets are limited and sell out quickly. Be sure to buy yours now at https://givebutter.com/hfhgala23.
Special Thanks to our Generous 2023 Gala Sponsors!
We are thankful for our growing list of generous sponsors. We are still accepting sponsorships and encourage business community members to take a look at the sponsorship level benefits below. Sponsorships ranging from $150 - $10,000 can be purchased at https://givebutter.com/hfhgala23.
All proceeds will benefit Habitat for Humanity of Greater Plymouth and their work building and repairing affordable homes locally. 
For questions about becoming a sponsor, please contact Kelly at kdipersio@hfhplymouth.org or 508-866-4188.
CAPSTONE PARTNER:
The Pinehills Affordable Housing Charitable Trust, Inc. 
FOUNDATION BUILDER:
TEAM PARTNER:  
DREAM BUILDER:
HELPING HAND:
First Home Mortgage Corporation
GOLD: 
ARCH Cutting Tools - Plymouth, LLC
Cartmell - Davis Funeral & Cremation Service
Chapman and Cardwell, Capital Management
Coll, Sacchetti & Associates, Inc.
Mazzillion Investments 
SILVER:
AM Spirit Business Generators
Junkluggers
Viscariello Hospitality Group, Inc.
BRONZE:
Representative Kathy LaNatra
Hearts & Hammers Gala Lead Sponsors
---
Back to the 80s Night! 
Join fellow supporters of Habitat for Humanity of Greater Plymouth for a totally awesome Back to the 80's Night on Sat. April 22nd at the American Legion in Plymouth!  Dust off your leg warmers and high tops, deck yourself out in your fav 80's garb and have a blast with us while we re-live a decade to remember!!  
A live DJ will spin those popular 80s tunes we all know and love!  Plus, enjoy good food, cash bar, raffles & more!  
Tickets are $35 each and can be purchased online here .  Tickets are limited so be sure to grab yours early! 
This event is generously supported by:
The Terminator Sponsor:  
Jon & Diane Marquis 
Far Out Sponsor:  
Chuckran Auto
Cool Beans Sponsors:  
Alternative Transportation Services 
Rosemary & Kip Beach
Betsy R. Hall
Bob & Peg Laurie
Claudia & Russell Swapp
Sponsorships ranging from $250 - $5,000 are also available and can be purchased here.  For more information, contact: cherylphelan@gmail.com
All proceeds will benefit Habitat for Humanity of Greater Plymouth and their work building and repairing affordable homes locally. 
A.D. Makepeace $10,000 Challenge Match!   Double Your Donation!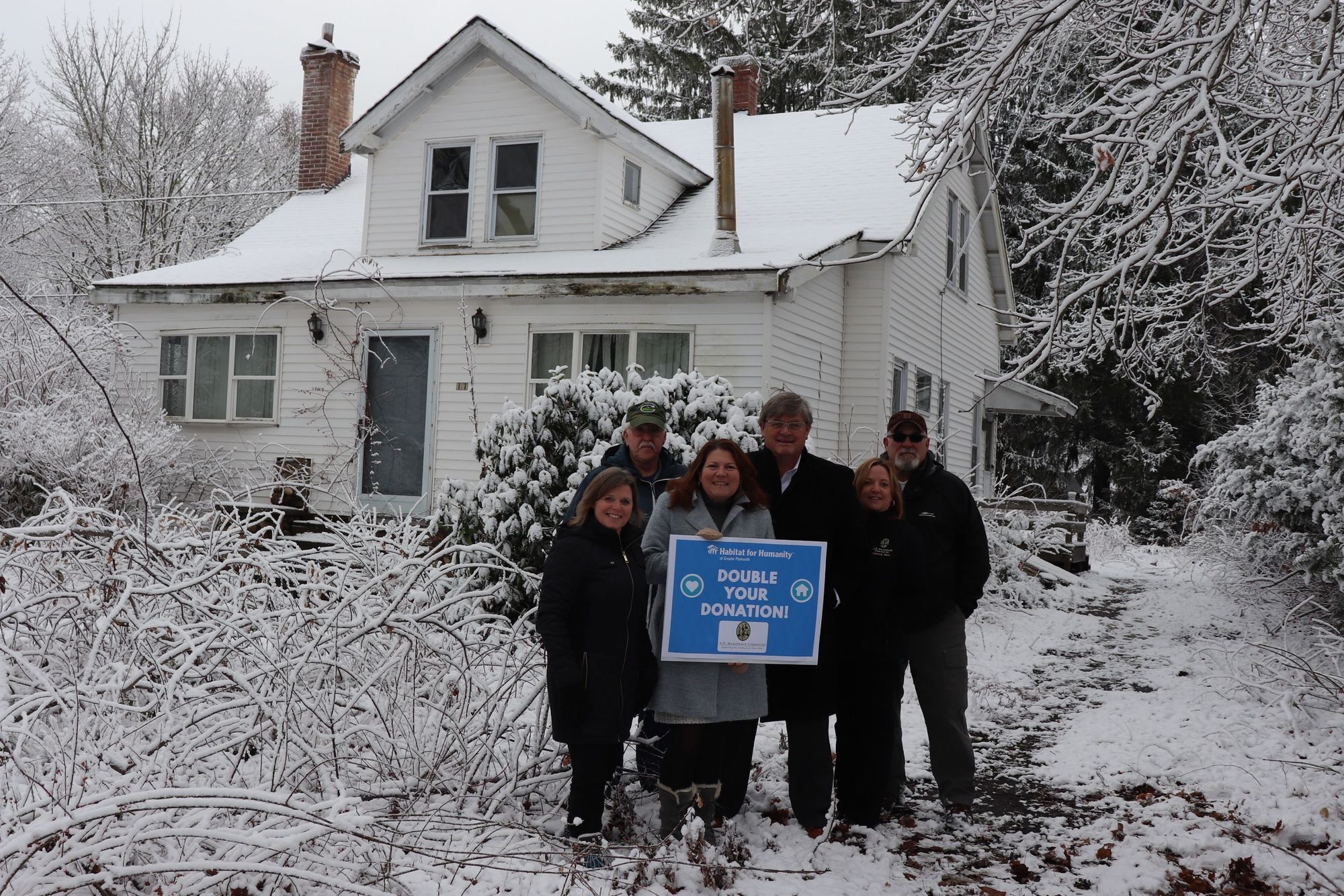 Habitat for Humanity of Greater Plymouth is pleased to announce that the A.D. Makepeace Company has issued a $10,000 Challenge Match to benefit the Greater Plymouth affiliate's upcoming build in Carver.  The project entails a complete rehabilitation of the interior of an existing single-family house located at 11 Green Street. The finished product will be a three-bedroom affordable home to be sold to an income-qualified first-time homeowner, giving preference to a military Veteran.
To help fund the project, ADM has pledged to match up to $10,000 in donations received by Habitat for Humanity of Greater Plymouth from December 14th through January 31st, 2023.  "A.D. Makepeace's commitment to the community is truly admirable and we are extremely grateful for their support" said Amy Belmore, Director of Development & Outreach for HFHGP.  "With the real estate market skyrocketing in recent years, the void of affordable housing in our area is massive. We are excited to get to work on this project and hope members of the community will take this opportunity to have their donation doubled, thanks to A.D. Makepeace's generosity with this Challenge Match."
""Habitat does such a wonderful job supporting those in need in our communities, and we are pleased to see that military veterans will get preference for this home," said James F. Kane, president and chief executive officer of the A.D. Makepeace Company. "We're happy to be able to help financially, and we are hopeful that members of our staff can assist with the construction as well."
Donate Online toward the $10K Challenge and have twice the impact!   https://givebutter.com/HabitatGPMatch
Following the traditional Habitat model, nearly all aspects of the build will be accomplished by volunteers to fully rehabilitate the interior of the home and restore the exterior and surrounding grounds. The selected homeowner will pay a zero-interest, 30-year affordable mortgage and will also work alongside the volunteers to build his/her own home through "sweat equity hours".  Volunteer work is expected to begin in early 2023 and anyone interested in signing up should visit www.hfhplymouth.org. 
This project will be the latest in the affiliate's drive to provide affordable homeownership opportunities to low-income families and, specifically in this case, to military veterans.  The homeowner application is a multi-step process and will be opened in the near future and will be announced on the organization's website, www.hfhplymouth.org/own-a-home. Veterans are encouraged to review the eligibility guidelines and apply when available.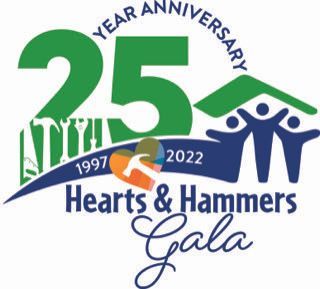 2022 Hearts & Hammers Gala, October 7th
We had a blast celebrating our 25th Anniversary at Hotel 1620 in Plymouth!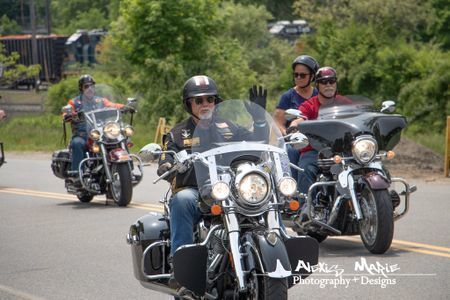 2022 Ride for Homes, May 7th
---
---
Many thanks to our lead partners!