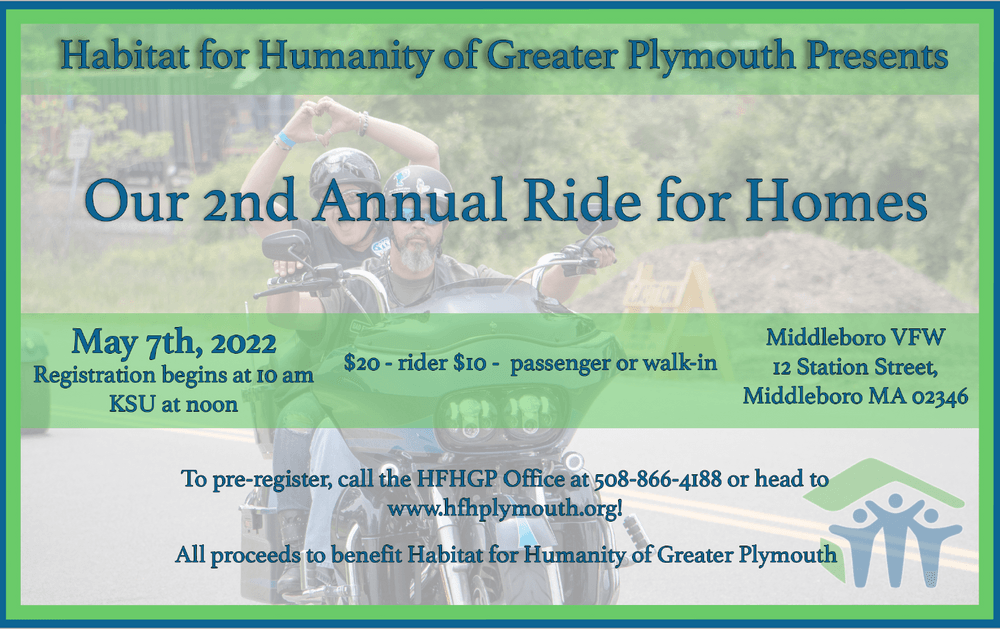 2022 Ride for Homes
After two years off, we are excited to bring back our Ride for Homes event!
The route will begin and end at the Middleboro VFW.  
Check-In begins at 10 AM; KSU at 12 Noon.  
After the ride, enjoy music, lunch, raffles and great camaraderie! 
$20 per rider and $10 per passenger. 
Lunch and T-shirts will be available for purchase. 
All proceeds benefit Habitat for Humanity of Greater Plymouth and all are welcome! 
Please share with everyone you know in the biking community and those who might be interested in joining us as we hit the road on May 7th. 
We are grateful for the support of our generous sponsors:
GOLD:  
Acella Construction Co. 
Dennison Lubricants 
Tiny & Sons Auto Glass
SILVER:
Pinehills Veterans Group
BRONZE:
ARCH Cutting Tools - Plymouth, LLC
John Alden Sportsman's Club
We Need Volunteers Too! 
We also need volunteers to help with different aspects of the event including set-up (8:30 - 11am); Registration, t-shirts, and raffle & 50/50 ticket sales (2 shifts: 9:30a - 12p or 1p - 3:30p); and directional assistance in the parking lot (10a - 12p).  
Seeking Sponsors!
We are actively seeking business and community groups to join us as Ride for Homes Sponsors! Our sponsorship packages start at just $100 and go up to $2,500 for a Presenting Sponsor, with several levels in between. Please take a look at the Sponsorship options below and consider a level that works for you. All levels offer marketing opportunities that showcase your goodwill in the community. Tickets for the Ride are included most levels, and you are free to use them yourself or share with family or friends. We are very grateful to all those who participate! 
Sponsorship Benefits
Seeking Table Vendors! 
We invite local vendors to join the festivities to sell their products or services to attendees after the Ride. Motorcyclist gear, merchandise, jewelry, handmade crafts, artwork, memorabilia, etc. are welcome. The fee for a Vendor Table is $25; in addition, all vendors are required to provide a raffle item valued at $75 minimum.  We are very grateful to all those who participate!   
Vendor set up is between 12:15 – 1:15 p.m.  The run begins at 12 p.m. and riders are expected to return to the VFW between 1:15 – 1:30 p.m.  Breakdown will begin by 4 p.m. One table & chair will be provided per vendor.  To sign up as a Vendor, please contact Amy Belmore at amy@hfhplymouth.org or 508-866-4188.
---
Many thanks to our lead partners!