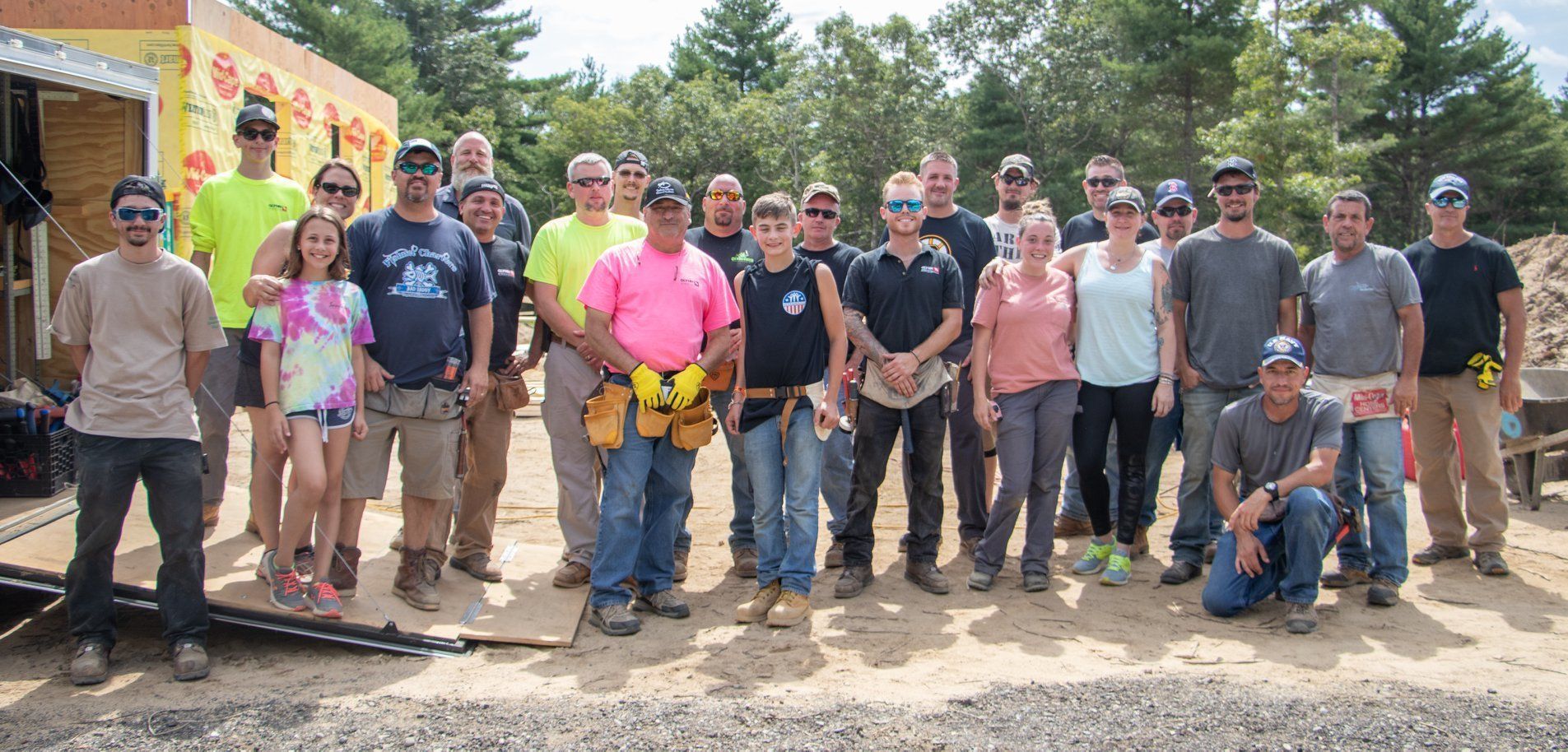 Hope & Independence for a SJS Warrior
Update, February 16, 2023
We want to extend our heartfelt thanks to all the volunteers and donors who contributed to the completion of this undertaking that will provide Emmaline a beautiful, safe living space for years to come!
Update, January 24, 2023
We have been working here for 8 long months. We are finally nearing the completion of the multi-phased project. We just hope our efforts will give some relief to this wonderful family. We have tried our best to create a functional bedroom suite for their lovely teenage girl.  When the plumbers finish up, we will finally be able to turn their home back over to the family.
We have given our best, the rest is up to God and the family to live safely and heathy.  
Thanks to all of the volunteers that made this possible,
- Doug Ballum, Site Supervisor
See finished photos in PROJECT PHOTO GALLERY below!
PROJECT PHOTO GALLERY
Project Progress in Pictures
Habitat for Humanity of Greater Plymouth is pleased to announce that we are beginning a major new Brush With Kindness project in February 2022. We are providing volunteer labor, building expertise and construction supervision to execute a significant home renovation to support the needs of a Plymouth teen who has suffered debilitating health problems due to a rare disease diagnosis. The project is a partnership with our long-time friends at the Church of the Pilgrimage. Read more background below.
A Local Family in Need:  
At the age of 13, a then-healthy teenage girl from Plymouth suffered a severe toxic reaction to a medication. She is now 18. Symptoms started with a rash, severe conjunctivitis, fever and cough. After blisters formed all over and symptoms worsened, she was rushed to Boston Children's Hospital at the advice of a skilled ER doctor at BID Plymouth. 
She was then diagnosed with Stevens Johnson Syndrome/TENS [Toxic Epidermal Necrolysis]. Children's Hospital was unable to control the increasing high level of pain and she was transferred to MGH Pediatric Intensive Care Unit for nine days while awaiting a humidity tent in Shriner's Burn Hospital. She was critically ill as the horrific disease took over her body inside and out. A feeding tube was administered. All the mucous membranes inside her body suffered burns, causing damage to her esophagus, the lining of her lungs and many other internal problems. Placenta bandages on her eyes helped protect her corneas from burning.  The outer layer of skin was sloughing off rapidly as the rash spread down her body. When this disease starts there is no medication to stop the progression. The pain was so intense that it became necessary to be on a ventilator in a drug induced coma. Her entire body was covered in bandages, with only her mouth, nose and eyes uncovered despite burns inside and out. 
The humidity tent worked well, and new skin began to grow. Through many infections, medications, surgeries, dressing changes, endless IV lines, this amazing girl fought her way back to life! She had to learn to sit, walk, and speak. Over the past 4 years, countless long hospital stays and doctor appointments in Boston have made her life very difficult and lonely. Falls down interior stairs caused from no depth perception, balance issues and being legally blind have added to the burden of coping with Stevens Johnson Syndrome/TENS.
Education was put on hold for a while and the resulting isolation was hard. The stress and took a toll on every family member. Their church, the Church of the Pilgrimage in Plymouth, has been a long-time supporter of Habitat for Humanity of Greater Plymouth.  After hearing about this family's extreme challenges and their need for major home improvements, HFHGP agreed to help make her home a safer place. 
The family of three sisters, Mom and stepfather live in a small 2-story condo with no availability for renovations. As a result, she moved to live with her grandparents in a larger home, with bedrooms upstairs.  This is where HFHGP comes in.  
To address her vision impairments and increase safety and accessibility, HFH will be converting the existing 1st floor living room into a bedroom with a handicap accessible bathroom. A gently sloping concrete walkway will connect the back deck to the front yard for ease in transportation and ambulance service. All these changes will provide more independence which a teenager needs, while being safer for someone with low vision.  An addition will be also be put on to create a new living room and allow for adequate storage of medical supplies.  
With all the generosity from HFH and so many volunteers making this happen, this teenager and her family can look forward to a more normal home life, even with all the medical problems that she endures daily.  The family is deeply grateful to everyone who has contributed financially through the Church of the Pilgrimage's fundraising effort and to all the volunteers who will be involved in the construction work.   
In her grandmother's words:  "It is so incredible to see all this coming together, being made possible through people caring about helping our family and making life better for a girl who has gone through the worst and trying so hard to give life her best. This new bedroom means more than words can say! The addition for a new living room is going to be a blessing for all the family!  This is God's love shining through every single person involved in this project! We saw firsthand God's love through all the fear from dedicated doctors and nurses who worked so hard and long to save this young girl and still do so today. This is when we shine, helping and sharing with each other!"
To learn about Stevens Johnson Syndrome, click here.  All ages can get SJS from over the counter medications and prescription drugs. Reading side effects first is one way to help prevent the spread of Steven's Johnson Syndrome.
---
---
Many thanks to our lead partners!