Massachusetts State House, Jan. 16, 2018: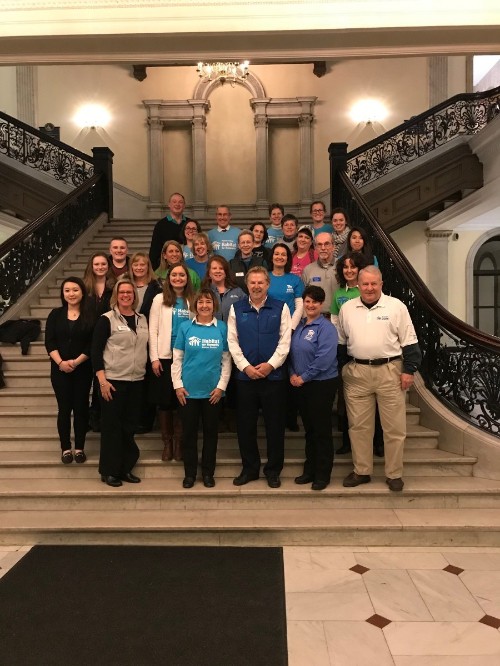 Habitat homeowners, volunteers, executive directors, and staff gathered at MA State House to support passage of House Bill 2160 to lift restrictions on HfH mortgage origination.  
Background:
Habitat and other non-profit housing organizations are currently required to have certified/licensed/registered "underwriters" on staff even though we write few mortgages and make no profit on them (in fact lose money)-- we are not acting like a bank or mortgage company, but have to meet the rules of the big ones. Technically, we may not even be allowed to use volunteers who are bankers to fill the role, nor can we use someone from another affiliate's staff-- they are required to be one of us on our payroll. Tough issue that came out of the housing finance crisis in 2008...Has been fixed in federal laws but not Commonwealth of Mass.  Hopefully, it gets corrected soon.

Represented were Boston, South Shore, Plymouth, Cape Cod, North Shore, Merrimac Valley, Lowell, Worcester/Metro West, North Central, Springfield, Pioneer Valley and Northern Berkshire. Boston, South Shore, Worcester and Pioneer Valley presented our statements; and families from Boston and South Shore spoke movingly of their positive personal situations. There were families from as far away as Springfield, but time did not permit them to speak. It was a great turnout for Habitat from all around the state!