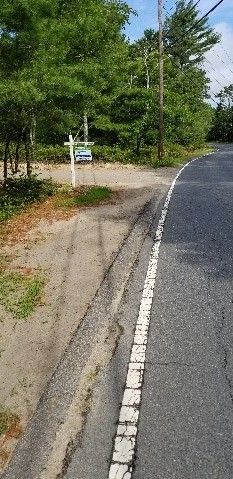 Habitat for Humanity of Greater Plymouth has started the site work needed to support three affordable houses located at 865 Long Pond Road in Plymouth.  Two of the homes will be for veterans.  When completed there will be two cape style homes and one handicap accessible ranch style house.  The project is expected to take about a year to complete.
The first step in most home construction projects is to prepare the site for building the house and supporting utilities.  This project has three house sites and a 1300 foot long common driveway.  The driveway is a major undertaking that is needed to provide access for the homeowners and, more importantly, at this time, construction equipment and materials.  The driveway has been cleared, grubbed and graded to provide unpaved access to the site.  Its condition is good enough to allow standard street vehicles to drive to the house lots.
The house lots have also been cleared making room for the septic systems and house foundations.  Stumps still need to be removed and the cut trees and branches will also have to be removed from the work areas.
The next steps are to drill the wells, have them approved and get septic system and building permits in place.  Once we have those permits we will get the foundations in place and start framing the homes.
This project is a huge undertaking for us.  We are used to building one home at a time and desperately need volunteers to help with the construction of these homes.  We also need donations of building materials and cash to make this happen.  Please step up and help a veteran family in need of decent affordable housing.