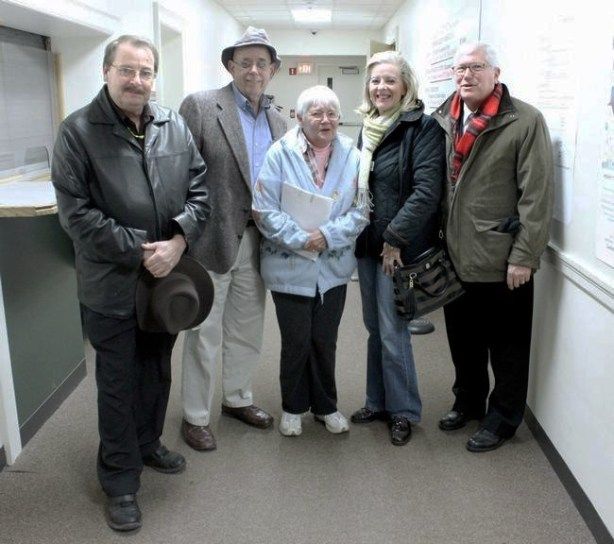 PLYMOUTH – They didn't let the rules deter them. They didn't let the fact that it had never been done before discourage them. They didn't take no for an answer. And, now, three needy veterans and their families will be able to have their own homes in the heart of America's Hometown.
"It really began over coffee," Plymouth resident Michael "Buster" Main recounted. "We were taking our coffee break and everyone was talking but this one guy, a guy who is usually raising hell about something, was dead silent.
"When we asked him what was up, he suddenly blurted out, 'Goddamn V.A.,'" Main said, "then revealed that his nephew had taken his own life."
It was an all too familiar story.
Well educated, a young family man, everything seemed to be going well. But in order to advance in his chosen career, he thought he needed to get a master's degree.
Like many Americans, though, the family's credit was maxed out with old school loans, new mortgage, car, kids. It all adds up.
There was, however, a patriotic option that his company supported: the National Guard.
The nephew enlisted and, at first, saw only stateside assignments. But then the company moved him to the Midwest and before he had settled in he was assigned to a different unit, called up and shipped to Iraq.
He returned with the kind of wounds that aren't visible to the naked eye, but are debilitating, nonetheless.
He couldn't work, so the family found itself going backwards financially.
Things began to pile up and the young man felt increasingly overwhelmed, helpless, despondent.
"That story really got to me," Main said, "and when I told it to (local developer) Tom Wallace we were both so mad afterwards that we agreed we had to do something."
Their first thought was to look to the town's Housing Authority, which has funds for affordable housing. But the 40B rules don't allow a particular segment – such as veterans or single woman with children – to be given preference.
"At first we thought, it doesn't matter, we'll do it ourselves, and there was no shortage of people who were willing to give their support.
Main singles out Attorney Bob Betters, who joined the effort early and worked long hours to create the legal underpinnings of their project.
The town stepped forward, too, designating a 30-acre parcel of land off Long Pond Road for their plans.
"Melissa (Town Manager Melissa Arrighi) was great. She put in a lot of time to make this happen, and wrote the article that we took to Town Meeting," Main said.
They were doing well, but that was in 2011.
There was also an engineer that Main will only refer to as "Bill," who created plans for the three homes, road layouts, everything they would need if and when they found funding.
"We were still facing the challenge of funding this project, but we weren't discouraged," Main explained. "Everyone we asked to help was willing. But we had a lot to do. We didn't have nonprofit status, so we really couldn't accept offers of money."
Then they had what they thought was a great idea. They approached Habitat for Humanity, which had already built several homes in Plymouth, but found out that they were bound by some of the same kinds of restrictions they encountered with the Housing Authority. They couldn't designate a project for any specific group or individual.
Or could they? Unbeknownst to Main, Habitat's national organization was just then considering a change in its rules and, just as the veteran's project reached a critical point, Habitat was ready.
So it was all smiles, handshakes and hugs last Tuesday evening when Main - accompanied by Steve Dubuque, Carol King and Dennis Randall, all representing Habitat for Humanity - stepped forward to announce the final step.
Habitat will buy the land in question from the town – for a dollar – then work its usually magic to source the materials and attract volunteers who, along with the veterans and their families, will provide the labor needed to build these three homes.
"There are so many people to thank," Main said that night. "My own union, A.D. Makepeace, Melissa, Sen. Therese Murray, Roxanne Whitbeck, Ken Howe, all the veteran's groups, my wife Sweetpea, Tom Wallace for leaning on people and Habitat, of course."
Local Realtor Carol King, who is chairman of Habitat's site selection committee, said she was proud to be associated with this project.
"We had looked at this land for a long time," King told the selectmen, "and though it had never come to pass, when Buster brought up the project, we were all very excited."
King praised the town, itself. "Every build we have done in Plymouth has been tremendous, and we have always had great support from Lee (Lee Hartmann, director of the planning and development). Dealing with the state is always easier with Lee behind you."
King said that, to her knowledge, this was the first project of its kind in Massachusetts.
"I am honored to be involved in this project," Main concluded, "and humbled by all of the generosity, all of the wonderful people I have met, the people that have helped get this so far.
"When I was a young man, Uncle Sam called on me, and said, come to Boston. These kids put their hands up, they are all volunteers, the bravest young people we could ever produce. We should be ashamed of the way they are often treated when they get home. But in Plymouth we can be proud."